Tax & Estate
Servicing Ambler, Blue Bell, Horsham, Lansdale & North Wales
Tax Planning & Estate Planning Services in Ambler, PA
Build your life on a solid foundation with tax and estate planning services from Wealth Builder Advisor–Mary A Reinoehl CFP®, EA.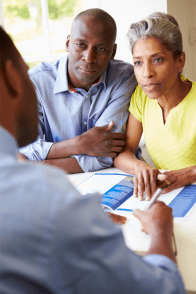 Tax & Estate
Our company can assist you in tax planning. Many financial planners do not understand the tax process—we do. We have been doing taxes for more than 30 years and we have the experience and knowledge to take care of your tax and estate planning needs. For you, we will seek to:
Get a Tax Reduction through Appropriate Investments
Maximize the Use of Tax Deductions

Manage Income Shifting among Family Members
Assist with Tax Deferrals
---
Estate Planning
We will work with your attorney or we can refer one to you to set up your will and determine the best way to distribute your assets and make adequate provisions for your estate. We have experience working with a variety of large and small estate accounts. We can figure out the best way to take care of your finances when you have passed.
We will help ensure that all of your financial obligations are met and your family is taken care of. By working with your attorney of choice, together we can seek to help minimize taxes on your estate and we can ensure all of your assets are allocated according to your wishes.
Contact us in Ambler, Pennsylvania, to learn more about our tax and estate planning options.
Wealth Builder and LPL Financial do not provide tax or legal advise. Registered Representative is not an attorney. The Registered Representative will help review the documents and recommend a local attorney that specializes in Estate Planning. Estate Planning can involve a complex web of tax rules and regulations. You should consider the counsel of an experienced estate planning professional before implementing any strategy.